Shopping Cart
Your Cart is Empty
There was an error with PayPal
Click here to try again
Thank you for your business!
You should be receiving an order confirmation from Paypal shortly.
Exit Shopping Cart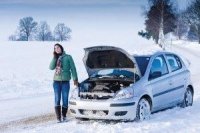 Have you had your vehicle checked over for the winter to try and avoid unwanted breakdowns? Winter is one of the most popular times of year to breakdown due to poor maintenance or vehicle neglect. The most common being battery failures, closely followed by low antifreeze content in coolant system which can lead to engine freezing solid, along with other items that could all be checked before the cold weather finally arrives for good.
GVS 24Hr Recovery can offer you a comprehensive vehicle winter check to eliminate most problems that would cause you to breakdown this winter. All carried out by fully qualified and trained vehicle technicians. This can all be done at your home or work and will give you piece of mind that you will not breakdown due to something that is easily checked before hand.
With batteries being the number one reason for breakdown in winter this is one of the items we can fully check along with the starting and charging system and give you a full print out on condition of all the key items in these systems.
For more in formation on everything that is checked or to talk to a technician before booking your vehicle in for a winter check then simply give us a call,  we are ready and waiting to help you.
Here's a simple way to remember what to check.
F L O W E R
Rain or shine, it pays to give the car a good check over every couple of weeks – you could prevent a breakdown and perhaps a large, unwelcome bill.
FuelTop up when you pass a filling station rather than delay looking for one until the fuel light comes on – particularly if you're driving in an unfamiliar area.
Lights Clean all exterior lights regularly and check for blown bulbs and cracks in the lens.
Oil Cars can consume as much as a litre of oil every 1,000 miles. Check the oil level regularly (your handbook will show you how). Don't wait for the red oil pressure warning light to come on - engine damage may already have occurred by then.
Water Overheating is a common cause of breakdowns, especially in hotter weather. Check the coolant level regularly (the handbook will show you how) and if the level always seems low, check for leakages. Top up the windscreen washer fluid too.
Electrics Battery problems are the number one cause of breakdowns at any time of year. Renew an old, tired battery before it lets you down. Also make sure that your electric radiator cooling fan starts running when the engine gets hot – you can check this by running the engine with the car stationary.
Rubber Incorrectly inflated tyres are not only unsafe, they wear out faster and can increase fuel consumption by around 5%. If you're driving with extra passengers or luggage, remember to increase your tyre pressure accordingly (see your handbook).
Calling for help
• If possible, use the nearest emergency phone
• On motorways, blue and white marker posts show the direction of the nearest phone 
• The phones connect directly to the police control centre and are numbered so that you 
  can be easily located
• If using your mobile phone, refer to the new blue rectangular Driver Location Signs, 
  which detail the road number (e.g. M1), direction of travel and precise location
Motorway breakdown procedures
If your vehicle develops a problem on the motorway:
• Leave at the next exit if possible and stop at the next service area
• If you must stop immediately, pull onto the hard shoulder and stop with wheels 
  turned to the left, away from traffic
• Park as close to the left as possible and try to stop near an emergency phone
• Put on your hazard lights and turn on side lights in poor visibility
• DO NOT use your warning triangle on the hard shoulder
• NEVER attempt repairs yourselfWaiting for help
If you must stop on the hard shoulder:
• ALWAYS get out of the vehicle 
• Make sure you and all passengers exit the vehicle on the left-hand side 
• Walk off the road – up the embankment if there is one, or climb over the crash barrier 
  into a field if possible
• NEVER try to cross lanes to the other side of a motorway
Be prepared
• Carry a charged mobile phone (switched off and out of reach while driving)
• Carry an emergency kit, including warm and high visibility clothing, a torch, water 
  and a reflective triangle
• Ask your employer to confirm what, if anything, is provided by them
 It's vital that you know what to do in the event of a breakdown.

• Most breakdowns are due to poor vehicle maintenance and could have been avoided
• Work with your employer to ensure your vehicle is regularly serviced and checked, including wipers, tyres and fluid levels
• Report faults immediately
• Ensure you understand your vehicle warning lights
General breakdown procedures

• If possible, avoid stopping in dangerous places such as roundabouts and corners
• Switch on your hazard lights
• If it is safe to do so, drop your speed, continue driving and try to pull off the road completely, 
  or onto a straight section of road
• If you have to stop on a road, display your emergency triangle at least 45 metres behind 
  your vehicle (don't do this on a motorway)
• Do not attempt to fix your vehicle yourself by the roadside. Call your employer's
  designated breakdown service
• Switch off your engine and wait in a safe place, away from traffic
It is dangerous to stop on a hard shoulder except in an emergency. If an emergency forces you to stop, then follow the top five personal safety tips to stay safe:
Pull onto the hard shoulder and park as far left as possible; near an emergency roadside telephone if you can. Turn on your vehicles hazard warning lights.
Leave your vehicle immediately via the left hand door. Make sure your passengers do the same. You should leave any animals in the vehicle, or keep them under proper control on the verge.
Contact the Highways Agency via the emergency roadside telephone. Always use this in preference to a mobile phone, as your location will be pinpointed on the operator's screen so it will be easier to find you. On the motorways, you will see these spaced at one mile intervals, with roadside markers displaying an arrow pointing you in the direction of the nearest phone.
Wait well away from the carriageway and hard shoulder for help to arrive. You should never attempt even the simplest of repairs.
If you feel at risk from another person, return to your vehicle via the left hand door, fasten your seatbelt and lock all the doors. Leave your vehicle again as soon as you feel the risk has passed.
I
f you have a disability which prevents you from following the above advice, the Highway Code advises that you should stay in the vehicle, switch on your hazard warning lights and display a "help" pennant. If you have a mobile phone you should dial 999 and advise the emergency services of your location.If you cannot get your vehicle onto the hard shoulder the Highway Code advises that you:
Do not attempt to place any warning device on the carriageway.
Switch on your hazard warning lights.
Leave your vehicle only when you can safely get clear of the carriageway.
/